Forthcoming Titles

These Truths We Hold: Judaism in an Age of Truthiness
Joshua Garroway and Wendy Zierler
Our nation's founding document, the Declaration of Independence, confidently declares, "These truths we hold to be self-evident…" And yet, America today seems mired in a truth crisis. Postmodern relativism has cast doubt on the Enlightenment notion of shared, self-evident truths held by all; technologies have made the swift proliferation of untruths  commonplace; political sensibilities have become so partisan as to tolerate public personalities who brazenly lie. Many Americans, Jews among them, are understandably concerned for the future of truth as we once knew it.
With this book, These Truths We Hold: Judaism in an Age of Truthiness, the editors and HUC-JIR have demonstrated a commitment to full engagement in the contemporary moment as well as to our Jewish heritage as a repository of complex and deep truths. We have assembled an impressive list of contributors who address the subject of truth in Jewish tradition and in contemporary Jewish life from several important perspectives: biblical, talmudic,  liturgical, scientific, philosophical, satirical, pluralistic, and poetic. The articles are meant to shore up faith and to serve as a bank of resources to orient readers to Judaism's rich, multi-faceted and morally edifying teachings about truth.

The Hebrew union College Annual 92
The Hebrew Union College Annual is the flagship journal of Hebrew Union College Press and the primary face of Hebrew Union College-Jewish Institute of Religion to the academic world. With a history spanning nearly a century, it stands as a chronicle of Jewish scholarship through the twentieth century and into the twenty-first. Go here to find out how you can order your copy. View the Table of Contents here.

A Tragedy of Errors: Bar Qamtza and the Fall of Jerusalem
Amram Tropper
The story of Bar Qamtza is one of the most famous stories in all rabbinic literature. In this tragic tale, a private feud at a Jerusalem banquet triggers a series of events which eventually culminates in the destruction of the Second Temple in Jerusalem. Until the Holocaust, Jews commonly viewed the razing of the Second Temple as the greatest calamity in all Jewish history, and for many Jews through the ages, the story of Bar Qamtza explained why it had happened. In time, the story also became emblematic of the internal strife and divisive infighting which have troubled Jewish communities time and again across the generations. In Bar Qamtza, Amram Tropper enlists this well-known rabbinic tale as a window into the world of its authors and early audiences. Through a close reading and thick description of the story, Tropper illuminates ancient Jewish social ideals and cultural practices, religious beliefs and literary trajectories, historical imaginings and political inclinations, systemic structures and institutional realities. In Tropper's hands, the story of Bar Qamtza serves as a springboard for exploring the interplay of the minutia of everyday life in antiquity and the overarching architecture of Jewish society under Rome and Persia.
New Titles

THE BOOK OF JOB IN JEWISH LIFE AND THOUGHT CRITICAL ESSAYS
Jason Kalman
Despite its general absence from the Jewish liturgical cycle and its limited place in Jewish practice, the Book of Job has permeated Jewish culture over the last 2,000 years. Job has not only had to endure the suffering described in the biblical book, but the efforts of countless commentators, interpreters, and creative rewriters whose explanations more often than not challenged the protagonist's righteousness in order to preserve Divine justice. Beginning with five critical essays on the specific efforts of ancient, medieval, and modern Jewish writers to make sense of the biblical book,  this volume concludes with a detailed survey of the place of Job in the Talmud and Midrashic corpus, in medieval biblical commentary, in ethical, mystical, and philosophical tracts, as well as in poetry and creative writing in a wide variety of Jewish languages from around the world from the second to sixteenth centuries.

Lobbying for eQuality
Gerard Leval
The French Revolution brought the promise of equality to many oppressed groups living in France. French Jews, long persecuted and considered to be a separate nation, sought to benefit from the new freedoms promised by the Revolution. To this end, Jewish leaders engaged the services of a 27-year-old Catholic lawyer named Jacques Godard, who had previously defended a slave seeking his freedom, a Protestant defending his property rights, and other disadvantaged individuals. As the official lawyer and lobbyist for the Ashkenazi French Jewish community, Godard ultimately persuaded the Paris Municipal Assembly to become an important advocate in favor of equal rights for Jews, and, within two tumultuous years, the campaign for Jewish equality achieved its goal: Jews became equal citizens of France. This inspiring story, set during the dramatic years of the Revolution, shows how one determined individual can be a catalyst for lasting and meaningful change. Gerard Leval has performed an important service by describing the life of a young man who lived more than two hundred years ago and fought for causes for which we still struggle today.
Mark Podwal
In A Collage of Customs, Mark Podwal's imaginative and inventive interpretations of woodcuts from a 16th-century Sefer Mighagim (Book of Customs) allow readers of this volume to see these historic images in a new light. Podwal brings humor and whimsy to religious objects and practices, while at the same time delivering profound and nuanced commentary on Jewish customs and history, both through his art, and through his insightful accompanying text. The book appears in concert with an exhibition of Podwal's renderings at the Cincinnati Skirball Museum.
Timothy Sean Quinn
Although Kant considered him the greatest critic of his work,  and Fichte thought him the most impressive mind of the generation, Salomon Maimon (1753–1800) has fallen into relative obscurity.  Apiqoros: The Last Essays of Salomon Maimon draws attention to works written during  the final years of Maimon's  life.  These essays are of particular interest:  they show that even though Maimon was a self-proclaimed apiqoros grappling with the implications of Kantian philosophy, his thinking remained deeply influenced by his Jewish intellectual inheritance, especially by Maimonides. The volume is divided into two parts. The first is a general account of Maimon's intellectual biography, along with commentary on his final essays. The second part provides translations of those essays, the principal themes of which concern moral psychology. The reader is thus able to see the degree to which Maimon, at the end of his life, became skeptical of his effort to unite Kant and Maimonides, and remained a thinker caught "between two worlds." The book concludes with a translation of an account of Maimon's final hours, penned by one of his friends.
Joseph Davis
Before the Enlightenment, before Spinoza had rejected traditional beliefs about the Bible, came the humanistic skeptics of the Renaissance. Alongside oft-cited Christian thinkers, Eliezer Eilburg now takes his rightful place. Comparable in view to Christopher Marlowe or Noël Journet, Eilburg perhaps uniquely represents the possibilities of Jewish skepticism in his day.
Translated by Rachel Tzvia Back
In late 2013, preeminent Hebrew poet Tuvia Ruebner published his fifteenth poetry collection, which he titled Last Ones. But it was not his last; he continued writing and publishing, even into the summer of his death in 2019. The translated poems in Now at the Threshold: The Late Poems of Tuvia Ruebner are from Ruebner's final three collections, poems all written from 2014 onward, after the poet's 90th birthday.
Benjamin E. Fisher
The Spanish and Portuguese Jews of seventeenth-century Amsterdam cultivated a remarkable culture centered on the Bible. School children studied the Bible systematically, while rabbinic literature was pushed to levels reached by few students; adults met in confraternities to study Scripture; and families listened to Scripture-based sermons in synagogue, and to help pass the long, cold winter nights of northwest Europe.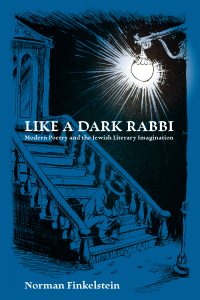 NORMAN FINKELSTEIN
Wallace Stevens' "dark rabbi," from his poem "Le Monocle de Mon Oncle," provides a title for this collection of essays on the "lordly study" of modern Jewish poetry in English. Including chapters on such poets as Charles Reznikoff, Allen Grossman, Chana Bloch, and Michael Heller, this volume explores  the tensions between religious and secular worldviews in recent Jewish poetry, the often conflicted linguistic and cultural matrix from which this poetry arises, and the complicated ways in which Jewish tradition shapes the sensibilities of not only Jewish, but also non-Jewish, poets.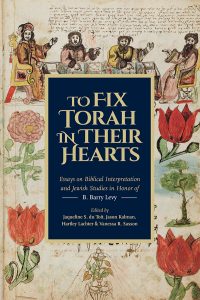 JAQUELINE S. DU TOIT, JASON KALMAN, HARTLEY LACHTER, AND VANESSA R. SASSON.
In this volume, students of beloved teacher B. Barry Levy come together to honor his erudition, superb pedagogy, kindness, and verve, with a collection of essays that reflect Levy's wide range of interest and expertise.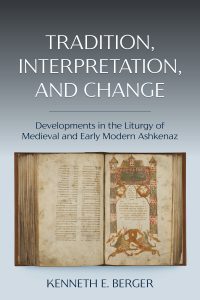 KENNETH E. BERGER
In Tradition, Interpretation, and Change, Berger draws upon a wide body of primary sources, including classical rabbinic and geonic works, liturgical documents found in the Cairo genizah, medieval codes, responsa, and siddur commentaries, minhag books, medieval siddur manuscripts, and early printed siddurim, as well as a wealth of secondary sources, to provide the reader with an in-depth account of the history and history of interpretation of many familiar and not-so-familiar prayers and liturgical practices.
Marc Saperstein
Many scholars have focused on contemporary sources pertaining to the Nazi persecution and mass murder of Jews between 1933 and 1945—citing dated documents, newspapers, diaries, and letters—but the sermons delivered by rabbis describing and protesting against the ever-growing oppression of European Jews have been largely neglected. Agony in the Pulpit is a response to this neglect, and to the accusations made by respected figures that Jewish leaders remained silent in the wake of catastrophe. The passages from sermons reproduced in this volume—delivered by 135 rabbis in fifteen countries, mainly from the United States and England—provide important evidence of how these rabbis communicated the ever-worsening news to their congregants, especially on important religious occasions when they had peak attendance and peak receptivity. No other book-length study has presented such abundant evidence of rabbis in all streams of Jewish religious life seeking to rouse and inspire their congregants to full awareness of the catastrophic realities that were taking shape in the world beyond their synagogues.
edited by Simon Rabinovitch
Defining Israel brings together influential scholars, journalists, and politicians, observers and participants, opponents and proponents, Jews and Arabs, all debating the merits and meaning of Israel's proposed nation-state laws. Together with translations of each draft law and other key documents, the essays and sources in Defining Israel are essential to understand the ongoing debate over what it means for Israel to be a Jewish and democratic state.
edited by David H. Aaron and Jason Kalman
The Hebrew Union College Annual is the flagship journal of Hebrew Union College Press and the primary face of Hebrew Union College-Jewish Institute of Religion to the academic world. With a history spanning nearly a century, it stands as a chronicle of Jewish scholarship through the twentieth century and into the twenty-first. Go here to find out how you can order your copy.
Walter Homolka and Aaron Panken
In this volume of essays, eminent Jewish scholars from around the world present introductions to the different parts of the Bible for the wider public. The essays encompass a general introduction to the Torah in Jewish life, and include specific essays on each of the Five Books of Moses, as well as on the Haftarot, Neviim, and Ketuvim. The contributions provide an overview of the core content of each book as well as highlight central themes and the reception and relevance of these themes in Jewish life and culture past and present. These essays, informed by and based on the profound academic research of their authors, together provide an invaluable bridge between high-level academic insight and the study of the Bible both in synagogues and in homes.
Kenneth Stow
The "1007 Anonymous," an imaginative, brief text composed in the third or early fourth decade of the thirteenth century, illustrates the proper relations between Jews and their lay rulers and the pope. This message had to be conveyed indirectly, and the "1007's" vehicle for doing so was a fictional story of murderous attack and forced conversion known as "The Terrible Event of the Year 1007." Claims to the veracity of the story and the actuality of the supposed massacre are shown to be incorrect, as was demonstrated by the great French scholar Israel Levi at the turn of the twentieth century. No one, however, paid him heed—regrettably, for he was absolutely correct. Appropriately, this book is titled Levi's Vindication.
Werner Weinberg
Werner Weinberg was a professor of Hebraica at the Hebrew Union College-Jewish Institute of Religion (1961–1984). The breadth of his scholarship was prodigious, and to many generations of rabbis and doctoral students, Professor Weinberg was a beloved mentor. The collection of essays republished here, a little more than three decades after it first appeared, conveys Weinberg's ongoing struggle to put into words something that might offer understanding to post-Holocaust generations. The essays fuse together the most personal of reflections with the careful analysis of an erudite theologian — theological questions are not permitted to remain abstractions. Weinberg moves between resisting and acquiescing to the implications of Bergen-Belsen, never shying away from the most painful questions about God, morality, virtue, and the individual's potential to do good.

Jordan D. Finkin
Leyb Naydus (1890–1918) expanded the possibilities of Yiddish poetry via his rich cosmopolitan works, introducing a wealth of themes and forms seldom seen in that language, including some of its first sonnets of literary merit. A devotee of European Symbolism, Naydus's poems shimmer with his love of nature, especially that of his native Lithuania. His ground-breaking poetry explores classicism, exoticism, eroticism, Orientalism, and Judaism with equal verve. Naydus's work adds to our understanding of the creation of a major literature in a minor language. Indeed, this book shows how the poetics of minor-language literatures innovate simultaneously from within and without, and how those interactions can offer even greater creative possibilities than the major-language literatures with which they were in conversation. Naydus's unique body of work not only expanded the repertoire of Yiddish poetry, but also cemented Yiddish's place on the world literary stage, convincing young Yiddish writers that this was a language that could fulfill their artistic aspirations.
translated by Rachel Tzvia Back
On the Surface of Silence offers for the first time in English the final poems of Lea Goldberg, pre-eminent and central poet of modern Hebrew poetry. These extraordinary texts, composed in the last years and even last days of the poet's life and published posthumously after her untimely death, exhibit a level of lyrical distillation and formal boldness that mark them as distinctive in the poet's oeuvre. Often employing a fragment-like structure, where the unspoken is as present and forceful as the spoken, stripped of adornments and engaging the reader with an uncompromising, even disarming, directness, Goldberg's last poems enact and manifest a poetics of intrepid truth-telling. The play between revelation and concealment, the language precision and the unflinching end-of-life gaze transform these texts into powerfully moving, and often surprising, poems. The book itself, in the original format as masterfully edited by Tuvia Ruebner and with drawings by Goldberg herself interspersed among the poems, is a significant and beautiful artifact of modern Hebrew culture.
This bilingual edition, with translations by award-winning translator Rachel Tzvia Back, brings us poems from a singular poetic voice of the 20th century – poems which will enrich, reflect, and stir the reader's heart.
For Alicia Ostriker's review of On the Surface of Silence click here
edited by David H. Aaron and Jason Kalman
The Hebrew Union College Annual is the flagship journal of Hebrew Union College Press and the primary face of Hebrew Union College-Jewish Institute of Religion to the academic world. With a history spanning nearly a century, it stands as a chronicle of Jewish scholarship through the twentieth century and into the twenty-first. Go here to find out how you can order your copy.
Michael Kraus, translated by Paul Wilson
Twelve-year-old Michael Kraus began keeping a diary while he was still living at home in the Czech city of Nachód but continued writing while a prisoner at Theresienstadt. When he was shipped with other prisoners to the death camp at Auschwitz-Birkenau, all of his writings were confiscated and destroyed. After his liberation and while convalescing, he began to draw and make notes again about his experiences in Theresienstadt, in Auschwitz, the first death march out of Mauthausen and its satellite camps in Melk and Gunskirchen.
Yonatan Sagiv
Indebted: Capitalism and Religion in the Writings of S. Y. Agnon is the first book to examine the oeuvre of Shmuel Yosef Agnon, 1966 Nobel laureate in literature, through a reading that combines perspectives from economic theory, semiotics, psychoanalysis, narrative theory, and Jewish and religious studies. Sagiv outlines the vital role economy plays in the construction of religion, subjectivity, language, and thought in Agnon's work, and, accordingly, explores his literary use of images of debt, money, and economy to examine how these themes illuminate other focal points.
Jacob Rader Marcus and Marc Saperstein
First published in 1938, Jacob Rader Marcus's The Jews in The Medieval World has remained an indispensable resource for its comprehensive view of Jewish historical experience from late antiquity through the early modern period, viewed through primary source documents in English translation. In this new work, Marc Saperstein has recast the volume's focus, now fully centered on Christian Europe, updated the work's organizational format, and added seventy-two new annotated sources. In his compelling introduction, Saperstein supplies a modern and thought-provoking discussion of the changing values that influence our understanding of history, analyzing issues surrounding periodization, organization, and inclusion.
Arthur Green
Now available in paperback, Arthur Green's Devotion and Commandment uses the Hasidic debate on the patriarchs and the commandments as a point of departure for a wide-ranging consideration of the relationship between piety and commandment in Hasidic Judaism. The result is a series of remarkable mystical defenses of the commandments and an original contribution of Hasidic thought to the ongoing history of Judaism.