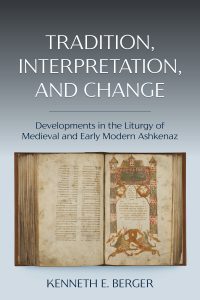 KENNETH E. BERGER
In Tradition, Interpretation, and Change, Berger draws upon a wide body of primary sources, including classical rabbinic and geonic works, liturgical documents found in the Cairo genizah, medieval codes, responsa, and siddur commentaries, minhag books, medieval siddur manuscripts, and early printed siddurim, as well as a wealth of secondary sources, to provide the reader with an in-depth account of the history and history of interpretation of many familiar and not-so-familiar prayers and liturgical practices.
Jordan D. Finkin
Leyb Naydus (1890–1918) expanded the possibilities of Yiddish poetry via his rich cosmopolitan works, introducing a wealth of themes and forms seldom seen in that language, including some of its first sonnets of literary merit. A devotee of European Symbolism, Naydus's poems shimmer with his love of nature, especially that of his native Lithuania. His ground-breaking poetry explores classicism, exoticism, eroticism, Orientalism, and Judaism with equal verve. Naydus's work adds to our understanding of the creation of a major literature in a minor language. Indeed, this book shows how the poetics of minor-language literatures innovate simultaneously from within and without, and how those interactions can offer even greater creative possibilities than the major-language literatures with which they were in conversation. Naydus's unique body of work not only expanded the repertoire of Yiddish poetry, but also cemented Yiddish's place on the world literary stage, convincing young Yiddish writers that this was a language that could fulfill their artistic aspirations.
translated by Rachel Tzvia Back
On the Surface of Silence offers for the first time in English the final poems of Lea Goldberg, pre-eminent and central poet of modern Hebrew poetry. These extraordinary texts, composed in the last years and even last days of the poet's life and published posthumously after her untimely death, exhibit a level of lyrical distillation and formal boldness that mark them as distinctive in the poet's oeuvre. Often employing a fragment-like structure, where the unspoken is as present and forceful as the spoken, stripped of adornments and engaging the reader with an uncompromising, even disarming, directness, Goldberg's last poems enact and manifest a poetics of intrepid truth-telling. The play between revelation and concealment, the language precision and the unflinching end-of-life gaze transform these texts into powerfully moving, and often surprising, poems. The book itself, in the original format as masterfully edited by Tuvia Ruebner and with drawings by Goldberg herself interspersed among the poems, is a significant and beautiful artifact of modern Hebrew culture.
This bilingual edition, with translations by award-winning translator Rachel Tzvia Back, brings us poems from a singular poetic voice of the 20th century – poems which will enrich, reflect, and stir the reader's heart.
Yonatan Sagiv
Indebted: Capitalism and Religion in the Writings of S. Y. Agnon is the first book to examine the oeuvre of Shmuel Yosef Agnon, 1966 Nobel laureate in literature, through a reading that combines perspectives from economic theory, semiotics, psychoanalysis, narrative theory, and Jewish and religious studies. Sagiv outlines the vital role economy plays in the construction of religion, subjectivity, language, and thought in Agnon's work, and, accordingly, explores his literary use of images of debt, money, and economy to examine how these themes illuminate other focal points.

translated and introduced by Rachel Tzvia Back
The poetry of Tuvia Ruebner offers us an exquisite and indispensable voice of the twentieth century. Personal loss and the historical devastation of the Holocaust inform all of his work. Rachel Tzvia Back's translations of select poems are beautifully attuned to the Hebrew originals, even as they create a "new music" in their English incarnations. This first-ever bilingual edition gives readers in both Hebrew and English access to stunning poetry that insists on shared humanity across all border lines and divides.

Laura S. Lieber
Piyyut is the art of Hebrew or Aramaic poetry composed either in place of or as adornments to Jewish statutory prayers. Laura S. Lieber uses the piyyutim of a single poet, Yannai (ca. sixth century C.E.), to introduce readers to this important but largely unfamiliar body of writings. Her groundbreaking study is an invitation to those with interests in areas such as liturgical studies, rabbinic literature and targum studies, the early synagogue and its art, Byzantine Christian culture and society, and the history of biblical interpretation to engage with these beautiful and neglected texts and include them in larger intellectual conversations.

Gershon Shaked
The Jewish struggle for survival as a spiritual entity after the cohesiveness of Jewish communal life began to disintegrate in the latter decades of the nineteenth century spawned a new tradition—a modern secular Hebraic cultural tradition. These seventeen essays by Israel's late esteemed literary critic, Gershon Shaked (1929-2006), explore the evolution of that new tradition, tracing its major processes and identifying central stages in the development of new canonical texts.

translated, with introduction and notes, by Marcia Falk
Filled with vivid, often dreamlike pictures from the natural world, the poems of Zelda Schneurson Mishkovsky, known to her Hebrew readers simply as Zelda, are unlike anything else in Hebrew literature. Marcia Falk was authorized by the poet to be her translator and worked on these translations over the course of three decades. Selected from all six of Zelda's books, the poems are accompanied by the translator's essay introducing the poet and illuminating the highly personal and often startling images in her lyrics.

Rina R. Lapidus
Hebrew literature, from the second half of the nineteenth century to well into the twentieth, was unmistakably influenced in style and substance by Russian prose and poetry. These influences have been readily acknowledged but have been studied only in an episodic and fragmented way. Rina Lapidus systematically identifies those Hebrew authors and poets upon whom Russian influence is most striking and upon whom it seems to have exerted the greatest power.

Zafrira Lidovsky Cohen
Maverick Israeli poet Yona Wallach (1944-1985) is often remembered for her outrageous and unconventional personality and the controversies engendered by her sometimes shamelessly erotic verse. But she is regarded by many of her friends and colleagues as the most important among the Israeli poets of her generation, perhaps even the greatest Hebrew poet of modern times, and has had a profound effect on Israel's cultural life ever since her works began to appear in periodicals in the early 1960s. Zafrira Lidovsky Cohen presents the first full-length critical analysis in English of her works.

edited by Glenda Abramson
Based on the Mason Lectures delivered at the Oxford Centre for Hebrew and Jewish Studies in the winter of 1995, the ten essays in this volume demonstrate the function and dynamic effect Jewish mythologies in social, political, and psychological life. Essays treat topics including the Golem, the male superhero in Zionist myth, feminist treatments of Sarah, the role of the chevrah kaddisha, Kafka's animal fables, and the role of myth in Jewish remembrance.

Jakob J. Petuchowski
The traditional Jewish liturgy contains not only the standard prayers ordained in the Talmud and the ritual codes, but also poetic embellishments (piyyutim) of all kinds. These poems often present unconventional and idiosyncratic theological ideas on the same prayerbook page with conventional theology. Jakob Petuchowski presents ten piyyutim in pointed Hebrew, with translation, commentary, and introduction to the theological theme of each poem. The volume is an indispensible introduction to medieval liturgical poetry for all students of Jewish thought and culture.

Ruth Kartun-Blum, with drawings by Menashe Kadishman
Profane Scriptures, based on the Gustave A. and Mamie W. Efroymson Memorial Lectures (1995), illuminates the new midrashic method in modern Hebrew poetry that seeks to neutralize the Bible's sway over modern Israeli life.

Warren Bargad
In 1937, the young Yiddish poet Berl Feldman bade farewell to his family in Radzivil and emigrated to the land of Israel, where he became the Hebrew poet Amir Gilboa. In this comprehensive study, Warren Bargad describes and interprets Gilboa's works at the various stages of his career and defines his place in the tradition of modern Hebrew poetry. Spanning nearly fifty years and collected in eight volumes, his works reflect the multiplicity of norms that dominated Israeli poetry in the thirties and forties as well as the personal artistic vicissitudes that moved Gilboa from one set of poetics to another in the course of his life's work.
Yael S. Feldman
Yael Feldman here sheds light on this particular, and possibly last, instance in the history of Jewish bilingualism. Yet the significance of her work extends beyond the poetics of Hebrew literature. For it offers unique insights into both the mechanism of literary transfer and the constraints operative within it. In addition, it follows Preil's recent "metapoetic" journey to the borders of imagism and back, thereby illuminating the risks of limitation and dehumanization that have always plagued "pure" imagism. Finally, it shows how Preil's  life work recapitulates the complex evolution of Western poetic Modernism with all its inherent paradoxes.