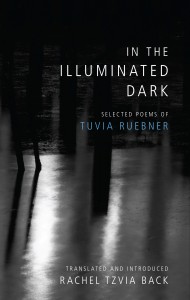 Listen to three interviews with Rachel Tzvia Back on Cover to Cover with Jack Foley, 94.1 KPFA Berkeley, CA. She talks about her own poetry as well as her translations of Tuvia Ruebner published in In the Illuminated Dark.
Today's show deals with the Israeli poet and translator (and photographer) Tuvia Ruebner. Jack's guest is American-born Israeli poet Rachel Tzvia Back, translator of In The Illuminated Dark: Selected Poems of Tuvia Ruebner.
Today's show will concentrate on two books: On Ruins & Return and A Messenger Comes. Susan Howe writes of On Ruins & Return, "The past exists in layers of our present and perhaps nowhere more powerfully than in the place evoked in this beautiful and haunting collection of poem. Rachel Tzvia Back's passionate historical sense illuminates ways in which outer violence touches our deepest subconscious…When hope is in retreat and there seems to be 'nothing left resembling the human / but soldiers on their knees / in the sand,' the austere beauty of this poetry remains."
Rachel Tzvia Back and Jack read selections from In The Illuminated Dark: Selected Poems of Tuvia Ruebner. Selections are read in both Hebrew and English. The poems were translated by Rachel Tzvia Back.