Michael Kraus, translated by Paul Wilson
"I spent a year in the Terezín ghetto, but as bad as it was, it cannot be compared to a single month in Auschwitz or Mauthausen. Rather than taking time to describe Terezín, I will only briefly record the most important events, because I am writing this during a period in my life when time matters and I would rather describe in greater detail my experiences in the concentration camps."
Twelve-year-old Michael Kraus began keeping a diary while he was still living at home in the Czech city of Nachód but continued writing while a prisoner at Theresienstadt (Terezín). When he was shipped with other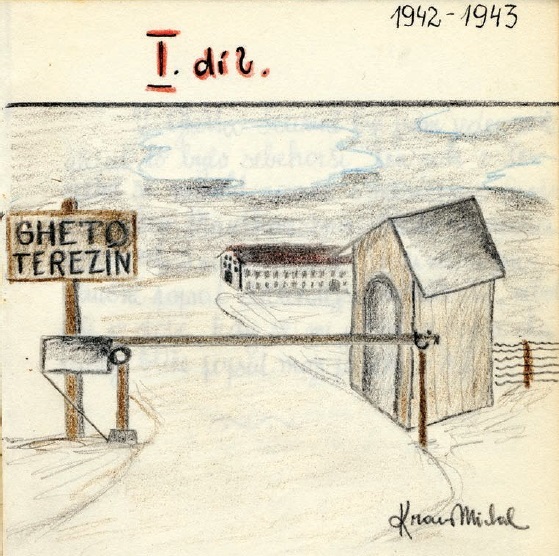 prisoners to the death camp at Auschwitz-Birkenau, all of his writings were confiscated and destroyed. After his liberation and while convalescing, he began to draw and make notes again about his experiences in Theresienstadt, in Auschwitz, the first death march out of Mauthausen and its satellite camps in Melk and Gunskirchen.
As a teenager confronting the traumas of these experiences, Kraus found that recording his memories in words and pictures helped him overcome his hatred for those who had murdered his parents. The process of writing and drawing also helped him begin the painful transition to a so-called normal life. As a survivor, Kraus also felt the need to recount his experiences for the benefit of future generations, especially on behalf of the many who did not survive.
The present edition makes this memoir, originally written in Czech and significant for having been written so close to the author's liberation, widely available to English readers for the first time. It also reproduces pages from the original booklets that show how the teenage Kraus illustrated his memories with pencil drawings that both complement and extend his story, giving readers a sense of its character as an unusual and important historical document.
---
Michael Kraus of Needham, formerly of Brookline, passed away on Monday, December 17, at the age of 88 after suffering a stroke a week earlier. Michael (Misa) was born in Nachod, Czechoslovakia to Karel and Lotte (Goldschmidt) Kraus on June 28, 1930. Although he lost both parents in the Holocaust, he survived the concentration camps until being liberated in May 1945. After the war, while still a teenager, Michael recorded his World War II experiences. This illustrated "Diary" was translated into several languages for the benefit of future generations around the world; the English publication, published by HUC Press, is titled "Drawing the Holocaust." Despite these difficult experiences Michael created a life full of love, family, friendship, hard work, humor, adventure and travel.
In 1948 Michael made his way to Canada, finished his high-school education, and went on to study architecture at McGill University and later at Columbia University. While practicing architecture in Europe, he met his wife, Ilana, and they moved to the United States, where he enjoyed a long career at Stubbins and Associates (later Jacobs), working until he was 84.
Michael was known for his subtle, dry humor; mischievous smile; kindness; and love of travel. He was a perfectionist who took great pleasure in entertaining family and friends, and brought cheer and laughter to many family celebrations by demonstrating his ability to stand on his head.
Michael had many friends, family members, and professional colleagues who will miss him dearly. He leaves behind Ilana, his beloved wife of 55 years; daughter Dana Kraus and husband Tom Forster and children Ethan and Emma of Vermont; and daughter Tamara Kraus and husband Dan Ovadya and children Dahlia and Mira of California. He instilled in all of them a love of the outdoors, especially skiing and hiking.