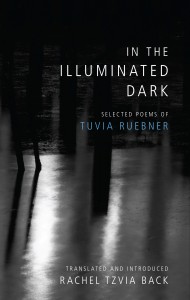 Rachel Tzvia Back, author of In the Illuminated Dark: Selected Poems of Tuvia Ruebner, will be offering an event in Oklahoma City, Oklahoma:
Thursday, September 18, 7:00pm
The Schusterman Center for Judaic and Israel Studies, University of Oklahoma, 900 Asp, Associate's Room on the third floor of the Oklahoma Memorial Union: "Illuminating the Dark: The Poetry and Poetics of Tuvia Ruebner." Rachel Tzvia Back will give a talk on the poetry and poetics of pre-eminent Hebrew poet Tuvia Ruebner. A poetic peer of Yehuda Amichai and Dan Pagis, literary executor and lifelong friend of Lea Goldberg, award-winning translator of Agnon and others. Back's lecture will track the central tenets of Ruebner's poetry, the trajectory of his work from being a voice of the Holocaust generation to offering poetry of protest, and the uniquely life-affirming sensibility of this poetic Elder of the Tribe.
Rachel Tzvia Back lives in the Galilee, where her great great great granfather settled in the 1830s. She has lectured widely in the United States and is the recipient of various awards, including a PEN translation grant, a Hadassah-Brandeis Research Grant, and a Dora Maar Brown Foundation Fellowship. Previous volumes of translation include Lea Goldberg: Selected Poetry and Drama and With an Iron Pen: Twenty Years of Hebrew Protest Poetry. Her own poetry collection, A Messenger Comes (Elegies), was voted by Forward Magazine one of the five most notable poetry collections of 2012. Her most recent publication is In the Illuminated Dark: Selected Poems of Tuvia Ruebner (Hebrew Union College Press and the University of Pittsburgh Press), the first volume of Ruebner's poetry to appear in English.